harpsichord Telemann
single manual

keyboard compass: 4 1/2 octaves (C - f3)

8', 4', divided lute on the 8'

knee lever for 4'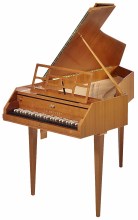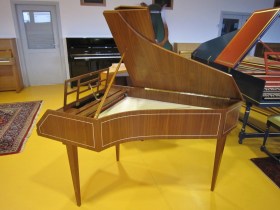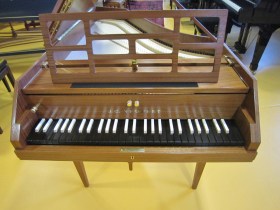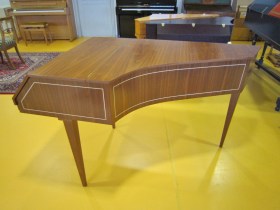 Description
In the NEUPERT "Telemann" harpsichord you will own an instrument which opens up the possibilities of playing harpsichord music yet whose size and disposition concentrate on the essentials.
This concept of the NEUPERT "Telemann" harpsichord has proved itself over many decades as an ideal partner for family music making, in music schools, on narrow organ galleries or as a continuo instrument in concert halls. It has always been subject to continuous development and in the meantime has become the world's most-built harpsichord.
Even though it does not take up much space the instrument is characterized by a full, clear and carrying sound. Its disposition of 8' and 4' with divided lute (8') provides a wide range of different timbres.
In addition to the illustrated version in walnut, the instrument can also be made with different kinds of veneer or in solid wood, painted or with gold decoration or with different legs or stands upon request.
Technical details:
keyboard compass: C - f3 (4 1/2 octaves)
naturals covered with ebony
sharps covered with white plastic
disposition: 8', 4' (knee lever for 4'), divided lute on the 8'
length 143 cm (4'8"), width 80 cm (2'7")
net weight 48 kg
Additional equipment:
Covers and benches matching the instrument
française
étendue de clavier:
Do - fa3 (4 1/2 octaves)
8', 4' (levier de genou pour 4'), luth divisé pour 8'
longueur 143 cm, largeur 80 cm, net 48 kg
italiano
estensione della tastíera:
Do - fa3 (4 1/2 ottave)
8', 4' (leva a ginocchio per 4'), liuto divisibile per sopráno e basso per 8'
lunghezza 143 cm, larghezza 80 cm, peso 48 kg
español
extensión del teclado:
Do - fa3 (4 1/2 octavas)
8', 4' (palanca de rodillas por 4'), laúd dividido para soprano y bajo por 8'
largo 143 cm, ancho 80 cm, neto 48 kg