Services
The J.C. NEUPERT workshop for historical keyboard instruments makes harpsichords, spinets, clavichords, virginals and fortepianos from various schools. Individual customer's wishes can always be accomodated.
We offer a wide range of new and second hand instruments:
new from our own workshop
second hand from our own and other workshops
restoration of instruments according to the customer's requirements
grands and upright pianos from leading worldwide manufacturers
accessories (such as benches, covers, tools, etc.)
Keyboard instruments from J.C. NEUPERT are supplied with wooden jacks (for historical models) or with plastic jacks in the well known rectangular shape. Both types are characterized by their easy adjustment, absolute reliability and low noise level. Wooden jacks without means of adjustment assistance can also be supplied upon request.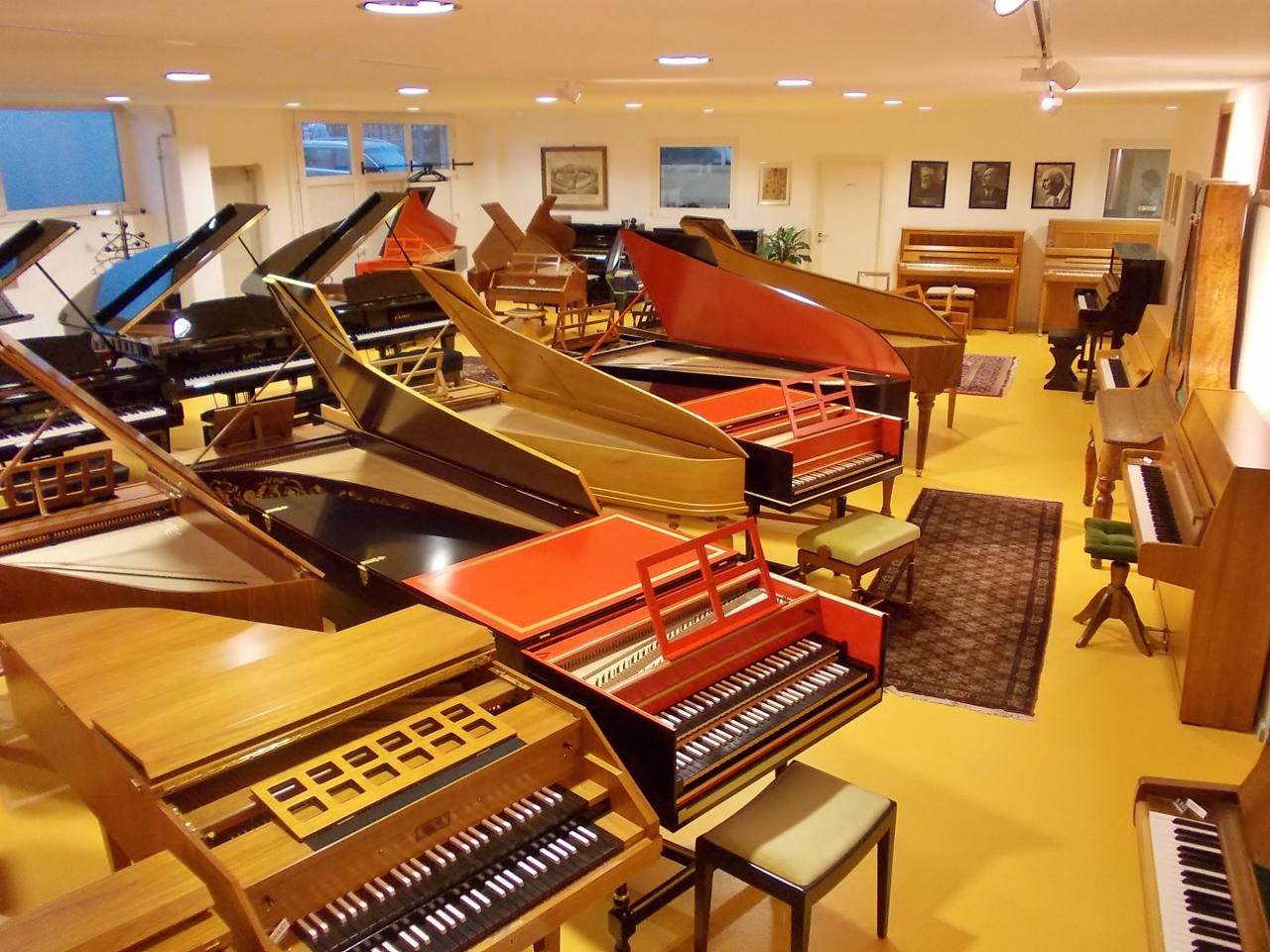 J.C. NEUPERT is able to offer a wide range of instruments and will assist you to find your own hand-crafted instrument. You may rent our instruments for only a concert or for longer periods. On request we also organize the instrument's transport. Please ask for an individual offer.
We are making historical instruments to enjoy playing it and not to tinker around.
Which type of instrument one prefers, historical or 20th-century, remains an individual decision.
Many good reasons to join a NEUPERT-harpsichord
Furthermore we made some modifications on our historical copys, to make them most reliable and playable, without falsify the character of the instruments. If the former harpsichord makers had the possibility to get adjusting screws in large numbers, they would have also used them for their instruments.
Here are some specifications about historical NEUPERT-harpsichords:
The case is completely made of solid limewood, bonded in high quality timber joints.
The wood for the soundboard comes from Ceresa, Italy, a very famous company for soundboard spruce.
We have- because of our experiences- different thicknesses of the soundboard and only polish it with wood shavings to get the best effect of pulsating the tone wood.
The jack-slides are made of lime wood covered with leather stripes, every wooden jack was fit in one by one and you have the most silent way to lead the jacks.
The jacks are equipped with several regulation-screws, so they are very easy to handle and every technician has no problem to regulate the harpsichord.
You can very easy remove the upper manual if there is a problem with the keyboard.
There are adjusting screws for the keyboard for a simple and fast damper regulation.
We use modern tuning pins in a layer-wrestplank for a equal and easy tuning.
You can easily transpose the keyboard from 440 Hz to 415 Hz.
The lid hinges have removable pins, so it's very easy to remove the lid.
We use a splitted topstick to fix the lid in two positions.
The usual stand (after Louis XIV) is very fast and easy to remove, there are only 3 screws which fixes the stand, but we may offer different kinds of stands too.
The registers are easy to turn on or off with the metal levers above the keyboard.
The guarantee for our instruments is five years for all defects in material or workmanship excluding costs of shipping or travelling.
Zum Thema
NEUPERT-plucked keyboard instruments are supplied with wooden jacks (all models in historical construction) or with plastic jacks in the classic rectangular shape. Both types of jacks are characterized by easy adjustability, absolute reliability and low noise. On request, the wooden jacks may be done without regulation screws.